Javed attacks Fundamentalists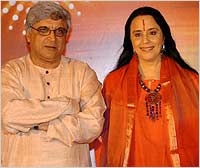 Javed attacks Fundamentalists
Javed Akhtar, (well known Bollywood lyricist), wants
Muslims to fight fundamentalists.
There are many social causes to fight. But the biggest menace is fundamentalism's ugly face. So we must give people the right perception," said Akhtar.
Sadly, his definition of fundamentalists also
include
Sri Sri Ravi Shankar
(also a world famous spiritual leader). Mr. Javed mian, along with wife Shabana Azmi, have made it a family business to attack the fundamentalists (Hindus) by calling Hindus and Hinduism in general, a hoax. Interestingly, Javed Mian also thinks that
only Hindu's are fundamentalists
whom the Muslim seculars should fight.
As noted earlier, Javed along with his secular band like Teeta Setalvad, Javed Anand and 9 other members of "Citizens for Peace and Justice" (a disguise?) have been handling the
Best Bakery case
and were instrumental in
Modi's visa denail to US
(along with
US/UK members
).